Concrete Staining
Get Residential Stained Concrete Floors in Arizona
WORK WITH CONCRETE CONTRACTORS YOU CAN TRUST
Metro Concrete Arizona is a reliable and trustworthy concrete contractor serving Anthem, New River, and Tramonto. We have been in the business for 15 years, specializing in all types of concrete solutions, from stained concrete floors to concrete construction. Whether you need small residential work or large commercial projects, our team is dedicated to providing the highest quality services with the best customer service every time.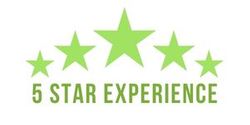 What Is Concrete Staining?
Metro Concrete Arizona offers a wide array of concrete services, one of which is concrete staining. Concrete staining is the process of using a specialized chemical solution to change the color and texture of concrete surfaces. Our team has extensive experience with staining concrete floors, patios, walkways, and more. We use only the highest quality materials to ensure a flawless finish.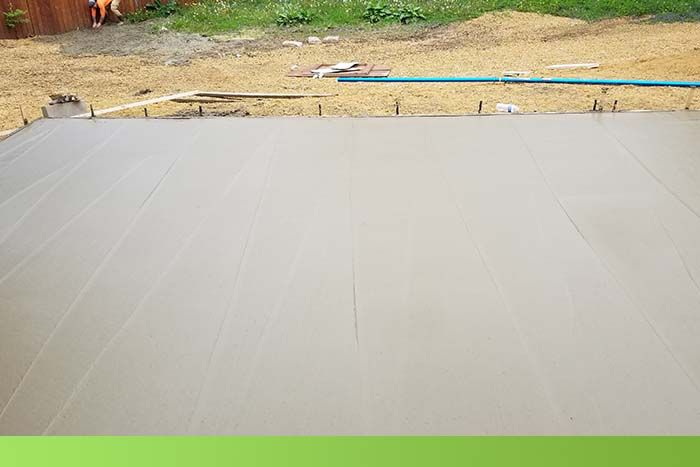 The Benefits of Concrete Staining
There are many benefits to having your concrete stained, including:
Transform a dull and lifeless surface into something beautiful and unique

Make a surface more resistant to wear and tear

Provide a cost-effective way to change the look of a space without completely tearing up and replacing the concrete
Create a one-of-a-kind look that will last for years to come with our commercial and residential stained concrete floors.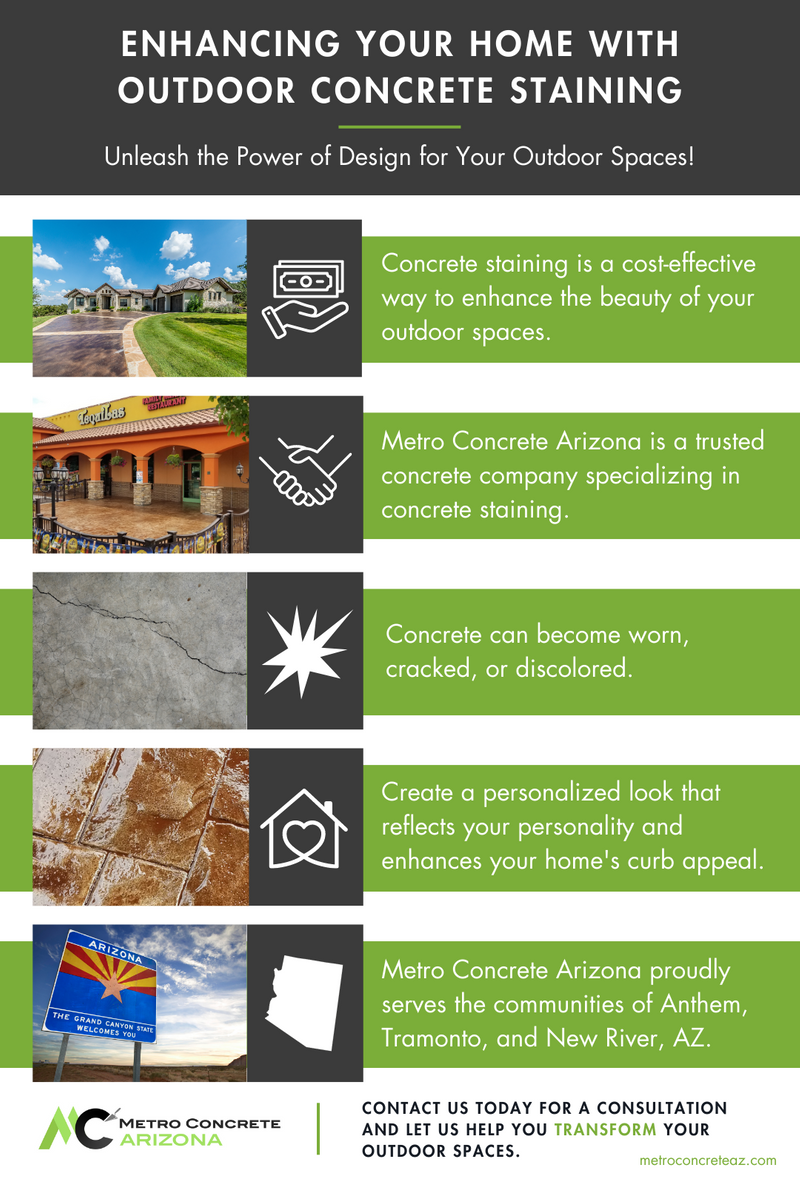 Q: Can any concrete surface be stained?
A: Yes, almost any concrete surface can be stained, including patios, pool decks, driveways, and even interior floors.
Q: How long does the staining process take?
A: The time and cost depend on the size and complexity of the project. Typically, staining a concrete surface takes two or three days.
Q: How long will the staining last, and how do I maintain the surface?
A: Concrete staining can last for years with proper maintenance. Maintaining the surface involves cleaning it regularly with a mild detergent and resealing it every few years.
Q: Can I choose the color and design of the stain?
A: Yes, our team will work with you to choose the perfect color and design that suits your needs and preferences.
Q: Is the staining process messy or disruptive?
A: The staining process is relatively clean and non-disruptive. Our team will take measures to protect your property and minimize any inconvenience.
Q: Do I need to be present during the staining process?
A: No, you don't need to be present during the process. However, we recommend being available to discuss any questions or concerns you may have.
Why Choose Metro Concrete Arizona for Your Concrete Staining Needs
Not only does our team of concrete contractors have 15 years of experience in the concrete business, but we also use the latest in technology and techniques when it comes to concrete staining. We take great pride in our work, and always strive to exceed customer expectations. Our goal is to provide you with the best quality, most beautiful stained concrete floors in Anthem, Tramonto, and New River, Arizona.
If you are looking for reliable and professional concrete contractors in Arizona,
LOOK NO FURTHER THAN METRO CONCRETE ARIZONA. CONTACT US TODAY TO GET A QUOTE FOR YOUR CONCRETE STAINING NEEDS!